Last week our blog post discussed the release of Category 7 Cable. This week we are looking to discuss what factors need to be taken into consideration when choosing Category 7 Cable, and how it compares to the popular Category 6A Cables.
Understanding what connections you are looking for can help determine which cables will provide your project with the right connection and bandwidth.
Category 6A Cable:
UTP/F/UTP- Unshielded Twisted Pairs/Foil over Unshielded Twisted Pairs

500 Mhz of bandwidth
10G Network- does the same as Cat 7 but, has less protection to offer the connection
Category 7 Cable:
S/FUTP- Shielded over Foil Twisted Pairs

600 Mhz of bandwidth

10G Network- offers more protection with the shieded foil pairs over the connection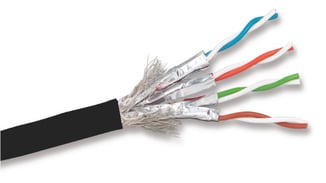 Primary Cables Differences:
The design of Category 7 Cables offers more shielding and shield effectiveness for the communication signal.

Offers less fragmented data rates

Used mainly for 4K applications primarily used in: boardrooms, classrooms, hospitals, convention centers, hospitality
100Mhz extra of bandwidth to carry the proper amount of connections
If you have questions about which type of Category Cable is right for your organization, check out WestPennWire Networking Solutions. We can help learn more about low voltage cable solutions that improve uptime, maintain security, and help improve user access.
Did you find this post useful? Let us know in the comment section below!