In previous posts we have discussed what an Access Control System is, how it works and the importance of having one for a business. Whether your business is growing, changing offices or in need for a greater amount of security, make sure you take the right steps in selecting the proper Access Control System for your business.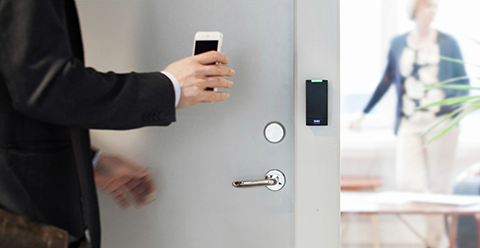 1) Review your companies security needs:
What security goals do you have for your business? First and foremost, a company needs to establish the level of security that is needed for both short and long-term goals, as well as the employees. When deciding that an Access Control System is needed, make sure you don't buy a system that offers too much based on current needs or, one that doesn't offer enough to accomplish your overall security goals.
Then, determine which type of security makes sense for your business and employees. For example, do you have restricted areas only certain employees will have access to? Which type of system will work best for your company size? Do you want to provide a free exit or one that is controlled? How many employees will have controlled access? Answer these types of questions and decide which type of systems makes sense.
2) Evaluate your office's access points:
Before you decide on which Access Control Systems will be most effective for your business, your company needs to discuss each direct point of entry and what level of security needs to be provided. Such as:
Main entrances and emergency exits and how many doors will need managed access
Determine the type of locks that will be needed
Free-exit or control exit systems
Any areas that will have restricted access within the facility
Which type of entry method for employees is preferred
Which employees will have access to each door with controlled security
System vulnerabilities and procedures
3) Define the terms of the installation and requirements:
Some companies are very small and could potentially install a system themselves, but, generally most commercial businesses hire professional access control installers and a creditable security company. This confirms that the project will be installed accurately, system maintenance will be provided, with overall system testing and very little liability. These companies will also make sure that the appropriate, quality cables will be selected for your project, such as West Penn Wire cable.
4) Select the right products and vendor:
Finally, determine the cost of this overall project based on your needs determined above. Research different types of security integrators within your area that provide the Access Control System your business is looking for. Also, make sure to get an overall idea of the cost from quotes received and a timeline of how long you think this project will take from start to finish.
---
Do you need an Access Control System or any Access Control Cables?