Fiber optic cable continue to integrate and revolutionize the spectrum of the cable capabilities in varying industries and will continue to trend forward. Although most understand standard copper cable more, fiber is the cleanest and faster for transmitting communication and data signals. It also can offer the highest capacity of connection for any network.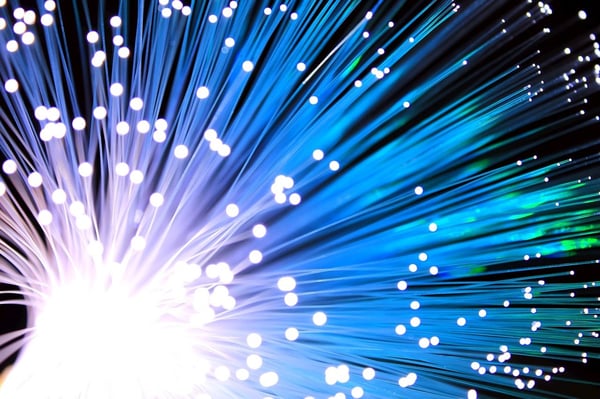 Although we have defined the benefits of fiber in previous blog posts, fiber optic communication happens when information is transmitted through pulses of light that travel through an optical fiber.
Fiber Optic cable is composed of fine hair-like glass fibers and messages are transmitted by sending light beams down the thin strands of glass through a cable. Fiber Optics cables are comprised of three main areas:
1) Core: Designed as the light carrier of the optical fiber. It is made from a doped glass(Silica). The silica material of the core allows the light signals to be carried efficiently and effectively across the fiber.
2) Cladding: It is made up of a different type of silica and surrounds the core. The glass of the cladding is made to contain the light within the core.
3) Coating: This piece surrounds the cladding and acts as a protector for the glass. It is normally clear (color), but for all outdoor cables, the coating is color-coded to help identify the individual fibers.
Bandwidth
Great Security
Energy Efficient
Easy Installations/Testing
Weight and Strength
Future of Fiber
With many businesses relying on cloud-based storage solutions, fiber optic cable will continue to grow because the quality, consistency, and speed of the networks that companies are transitioning to. Fiber optic cable has the capacity to deliver service on a level of quality that commercial organizations and industries recognize.
This growth will increase significantly over the next few years as more companies realize how important having fast, reliable internet is to their business's future.
Fiber optic technology will continue to offer many more opportunities to provide users with affordable, more convenient, and higher quality data communication.
---
Learn more about Fiber Optics cable below: