At West Penn Wire we often get questions from our customers and end users about some of our most popular products. When it comes to Aquaseal, one of the most prevalent questions is about the differences between direct burial and in-conduit and how these cable will be applied to their particular installation. This article will discuss the differences between the two, so you may understand the best cable for your upcoming project.
Direct Burial:
Direct Burial is exactly what the name implies. These cables are designed to be buried directly in the ground (dirt) and have the capabilities to carry signals from one building to the next. In order to make sure they can withstand any outside threats to the signal integrity, these cables go through a crust test in order f
or these cables to be called direct burial.
These tests allow our engineers to put the cable through a series of UL tests (

UL Standards 444 & 13 AND TIA455-82B)
that will physically try to crush the cable to see if it can be penetrated with outside forces or moisture. These cables are also composed
.01 inches of PVC and .005 inches of nylon that is able to protect each conductor, along with the
2-ply, water-blocking tape
for added moisture protection (See figure below).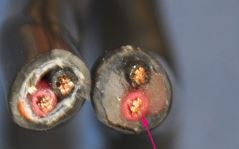 In conduit:
In
conduit
on the other hand needs to be run within a conduit in order for the cable(s) to be put into the ground. These cables do not have any nylon and the jacket is much thinner. This cable construction allows less space to be taken up when pulling the cable through an in conduit. This cable also has
2-ply, water-blocking tape
for the added layer of protection.
---
Want to learn more about Aquaseal products, quantities and specifications? Click this link to learn more: