There has been a big change in the AV industry from the standard coax cables to networking cable solutions, known as category cables. Although Category 5 cables are still heavily used, many growing businesses are looking into faster solutions with Cat 6, Cat 6A Cat 7 and Fiber Optic cabling.
In this article, we will compare the differences between Cat 6, Cat 6A and Fiber Optic cable so that you can best decide what will suit your customers and business in the evolving AV industry.
Category 6 Cable
Cat 6 and Cat 6A are manufactured with UTP and F/UTP. In the AV industry (HDBaseT) shielded cables are primarily recommended. Cat 6 and Cat 6A shielded cables can perform 4K resolutions up to 100 meters in most HDBaseT applications. The distinction between Cat 6 and Cat 6A is that Cat 6A is an augmented version that allows higher bandwidth and resolution. Both cables are made up of four twist pairs, view figure below.
These work at a much faster rate compared to previous generations and can transfer data at 1 gigabit/second or 10 gigabits/second if you are using Cat 6A Cables. Unfortunately, there are length limitations up to 330 feet with these cables.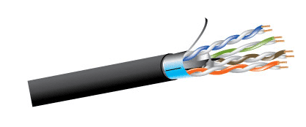 Unlike Cat cable, Fiber Optic cables are composed of fine, hair-like glass fibers and the messages are transmitted by sending light beams down the thin strands of glass through a shielded cable.
Investing in Fiber Optic cable can significantly increase any businesses bandwidth compared to the transmission of data over the standard copper cable. The high frequency ranges they are able to carry exceed even the highest frequencies of any standard copper wire. These cables also see little to no interference, more secure connections and support a variety of applications. Fiber Optics cables can also be extended miles instead of feet based on the application needed.
In order to make installations easier for Fiber Optics, West Penn Wire also provides cabling, installation kits, fiber optics assemblies, fiber optics cassettes, and cable management solution.

Which cable is right for my business?
Cat 6 Cables have many advantages over previous generations. While Cat 6 Cables are becoming increasingly popular, the future will inevitably lean towards Fiber Optic Cable. As the requirements for wireless networks increase, Fiber Optics will continue to provide speeds for the 4k and 8k solutions.
---
If you would like to learn more about fiber optics for any networking application, email us at sales@westpennwire.com or give us a call at 800-245-4964.
Click the link below to order fiber today and make sure to subscribe to our blog to learn more about fiber optic cables!