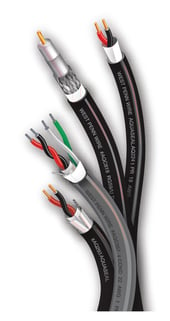 Whether your application has low voltage cables running from one building to another in a wet location (direct-buried) or conduit running between locations in a single building (in-conduit), Aquaseal® Water Resistant Cables assure the integrity of your signals because they are designed with a 2-ply water blocking tape that increases cable life, especially in outdoor environments.
Direct Burial Cables require the conductor to be a minimum of 18AWG to pass the UL Crush Test and are indoor/outdoor-rated for Access Control, Audio, Video (CCTV & CATV Systems), Communication (Intercom) and Power-Limited Fire Alarm Applications.
In addition to 2-ply tape for exceptional swell height, key features and benefits of Aquaseal include:
12 mm Total Swell (10 mm in first minute)
Maximum Tape for More Protection
Super Absorbent Polymer (SAP) to Absorb & Trap Water
Aquaseal products are manufactured to have a premium-grade jacket compound and are flame-retardant, resistant to sunlight and water, and are constructed to resist abrasion and crushing. This durability allows Aquaseal power limited water-resistant cables to be direct-buried, providing audio, video or other communication signals that travel from one building to another.

These water-resistant cables, which have set the standard for indoor/outdoor signal protection since 1995, are available in more than 40 varieties and meet UL Standards 444 and 13 and have passed the EIA/TIA-455-82B Fluid Penetration Test for Fluid-Blocked Fiber Optic Cable.
See a video demonstration and hear a further explanation of Aquaseal's effectiveness in wet environments.
Now that you understand how Aquaseal can benefit your application, here is the lineup of water-resistant cables. Included are descriptions of their primary applications and links to the appropriate pages on our website. This user-friendly format allows you to easily obtain the details you need to make a purchasing decision on your own or with assistance from one of our technical experts.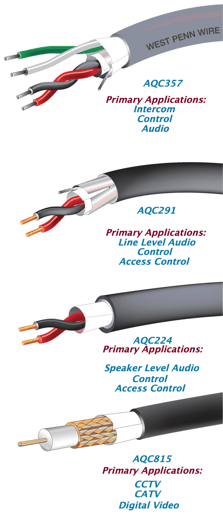 Intercom

Signal Control

Audio
Line Level Audio

Signal Control

Access Control
Speaker Level Audio

Signal Control

Access Control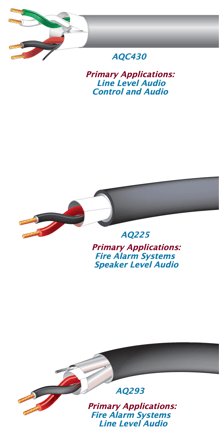 Line Level Audio

Signal Audio

Signal Control
Fire Alarm Systems

Speaker Level Audio
Fire Alarm Systems

Line Level Audio
For assistance with selecting the best Aquaseal Water Resistant Cables for your environment, click the button below.