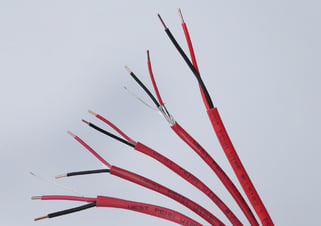 Fire alarm systems are essential to the safety of commercial and industrial buildings, schools, homes and more because they alert us, and first responders, to dangerous situations. There are three categories of fire alarm system designs: conventional (analog), addressable (digital) and multiplex (analog/addressable).
Conventional systems are often the choice for smaller buildings, or for environments where there are budget constraints. In contrast, addressable systems offer more flexibility than their conventional counterparts, so we will focus our discussion on them.
Addressable systems are the best choice for large buildings and other facilities with complex requirements. Addressable systems feature detectors wired in a loop around the building, with each detector having a unique "address" or identification number. An addressable system may contain multiple loops, depending upon system size, as well as on design requirements.
How it Works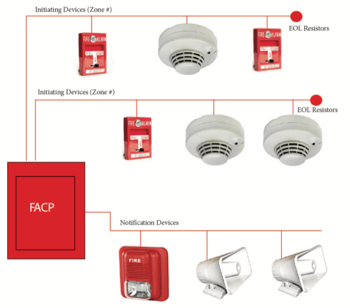 The fire control panel communicates with each detector individually and receives a status report, such as Normal, Alarm or Trouble. Because each detector has its own address, the fire alarm control panel can indicate the precise location of the detector in question. This feature helps to accelerate response to an incident.
Addressable detectors are intelligent devices that are capable of reporting far more than just fire or fault conditions. Earlier versions of addressable systems featured non-intelligent notification appliances. Today, many manufacturers offer addressable notification technology. The advantages of such technology include lower component costs and shorter installation time.

Cables for Addressable Systems
When specifying cables for addressable fire alarm systems, here is key information related to conductors, insulation, shields, jackets and electrical characteristics that you should keep in mind. We can help you determine the best combination of features based on your specific application.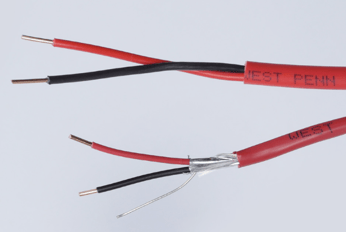 Conductor
26 AWG or Larger
Single Conductor 18 AWG or Larger
Solid or Stranded Conductor; Bar Copper for Low Digital Cable Ready (DCR) Requirements
Insulation
Polypropylene FPLR (Fire Power Limited Riser – suitable for vertical run)
Fluoropolymer Teflon FPLP (Fire Power Limited Plenum)
Twisted Conductors
Shield
Unshielded vs. Shielded (depends upon system requirements & environmental conditions)
Protects against interference from other cables or electronic/electromechanical devices
100% Aluminum Foil Wrap
Jacket
PVC for Non-Plenum FPLR (suitable for use in a vertical run through a shaft or from floor to floor within a building)
Flexible Fire-Retardant PVC for FPLP (suitable for use in air ducts and plenum spaces, and any other space used for environmental air flow)
Red, but can be any color
Electrical Characteristics
Nominal DCR (direct current resistance – AWG size)
Capacitance (lower capacitance allows for easier transmission & receipt of digital signals)
For assistance with selecting the best cables for addressable fire alarm systems and more, see our Fire Alarm Cables Product Guide or …